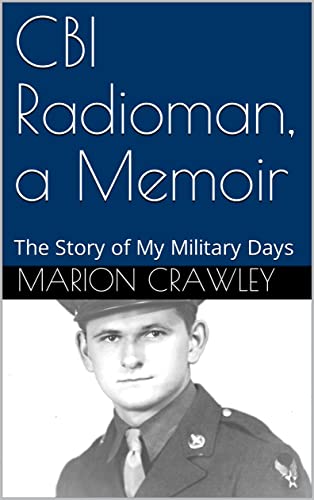 Remebering Marion Crawley (1920-2011)
("CBI" = China-Burma-India WWII Theater)
Many long time Athens County area hams will fondly remember Marion as a decades-long ACARA member,...an avid CW operator,...and active supporter of emergency and public service communications. First licensed in 1980 as KA8HZN, he became K8MMC in 2000 with an Advanced Class license upgrade.

His extensive and distinguished China-Burma-India WWII Theater military radio career included the destruction of the famous Bridge over the River Kwai in Burma, and pioneering work with the 'top secret' radio-controlled "Azon Bomb."

Thanks to the efforts of his daughter Daisy Crawley Franz, a fascinating 333 page memoir of Marion's military radio service was completed in 2022. Read Daisy's account of rescuing the almost-lost memoir draft materials in Marion's radio shack!

The completed, and published memoir was recently featured in a three-part Athens Messenger history series by Messenger Photo Editor John Halley. This article series is available below with the author's permission.
The final published memoir is available at:
Page last revised: 2/5/2023 by w8kvk